Lightning: The Nazis of Azov, crucified and burned alive captive volunteer (video)
April 24th, 2015
admin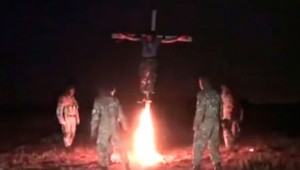 Like this war was not there, the Nazis from Turbat "Azov" crucified prisoner volunteer, and set fire to the cross. Prior to this, some of the "Azovtsev" reports that this will be every accomplice separatism.
In a footnote to the video reported that the action takes place in the area Shirokino, and this video sent to phones fighters VSN.
Video strictly 18+
I really hope that this is some ugly staging (though not a lot of hope), otherwise this war will reach a new level of brutality on both sides ...
PS.
On the morning of "Azov" not declared their participation in this promotion. But it was clear that they would deny it. " We are warriors, not executioners "- said the representative of the regiment. And then he hastened to add threat Any mention of our name without the said above explanations continue we will have to be considered malicious provocation .
This is the way has become a tradition - after each public execution (whether former Regionals, journalists or separatists), immediately denied any involvement, blaming agents of the Kremlin, and then add the threat, hinting dissatisfied that if you do not die out, they face the same thing.
Let me remind you that Vasily Vovk (SBU), after the murders Elderberry direct text voiced a similar threat
With regard to this statement - We are warriors, not the executioners , I think the video where Azovtsev coldly kill the prisoner, breaking his spine had not yet forgotten.
With regard to whether it was a public relations campaign with a hoax - it is difficult to judge whether the penalty in the form of burning (video stopped immediately after the cross was set on fire), but actually, so do LIH and militants, to show the dying agony they also did not consider it necessary. In any case, the nails in his hands hammered quite naturally, and in this part of the question is difficult. Shooting is not very high quality, was carried out clearly why Spielberg and "special effects" with fake blood and foam nails there is unlikely to occur. It is also difficult to doubt that a man with traces of such torture released alive.
In addition, for ostentatious piaraktsii (to intimidate separatists) or innuendo to "discredit" Azov, all too natural - people in the muddy field uniform, after a brief explanation of human simply executed, nobody Zeke, not yelling Thank Nation - Death vorogov, they do not try to show his involvement in the Azov (icons chevrons can be seen only when the block search) ... I do not see any signs of staging.
Did the soldiers of the regiment this action "Azov "or not - and what else?
The fact that they are capable of it, and confirms the second video, the fact that in recent months in the country hold demonstrations penalty for intimidation, the same is not news ...